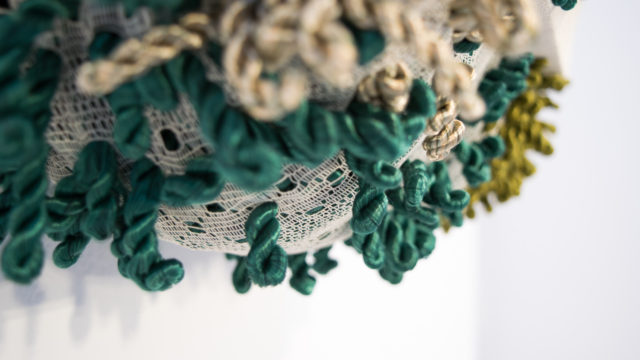 Living Organisms for Living Spaces / Organismos vivos para espacios domésticos 2017
Living Organisms for Living Spaces examines the conceptual considerations around material by analyzing 'objects' – specifically fabric and textile ornaments – from Colombia's material culture. Colombia is a country built on Catholic beliefs, thus the project exploresthe symbolic meaning of these objects that have both a Catholic and colonial legacy in society.
There are two concepts that underline this body of work: 'Materiality' and 'The Uncanny'. I intertwine the unfolded material reflection and the appropriation of the uncanny. This strategy transforms objects into something new, disrupting their prior meanings and functions.
Anomalies
Drapery lace, fringe, wood structure, 21"x17"x8", 2017 / Encaje de poliéster para cortina, flecos, estructura de madera, 53 x 43 x 20 cm, 2017
Fungi
Drapery lace, golden taffeta, dimensions variable, 2017 / Encaje de poliester para cortina, tafetán dorado, dimensiones variable, 2017
Specimens / Espécimens
Inkjet print on Photo Rag paper, 32″x32″, 2017 / Impresion inkjet en papel Photo Rag, 82 x 82 cms, 2017
Induced Mutations / Mutaciones inducidas
Drapery lace, fringe, taffeta, wood frames, 83"x41"x 2" and 35"x 38" x 3", 2016 / Encaje de poliéster, tafetán, estructura de madera, 210 x 104 x 5 cms, y 91 x 95 x 8 cms, 2016
Basic Alteration / Alteración básica
Drapery lace, velvet, sateen, threads, wire, wood frame,  74" x 51" x  4" 2016 / Encaje de poliéster, terciopelo, satén, hilos dorados, alambre, marco de madera, 188 x 130 x 10 cms, 2016. Ph: Liliana Sanchez